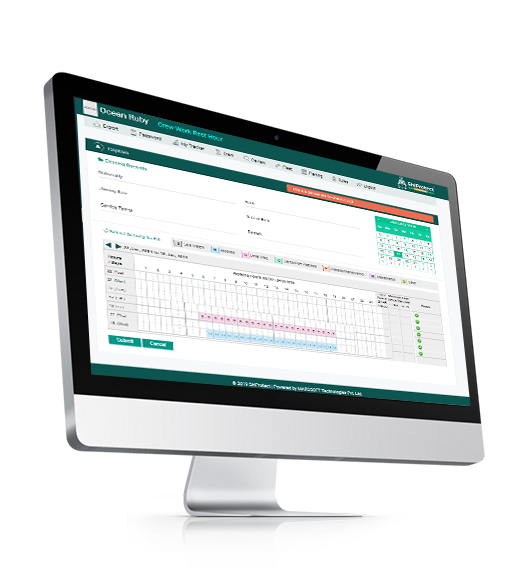 To counter the high instance of fatigue and the possibility of accidents at sea, the International Maritime Organization has laid out a set of strict regulations for crew work and rest hours when on duty. Special focus is placed on instances where hazardous cargo is being handled.
Specific guidelines define the number of work hours that a sailor can put in within a day or a work week. It also defines the mandatory minimum continuous rest periods.
Crew Work-Rest Hour tracks these work and rest hours and generates fleet level reports required by the ship auditors.
01
Automated solution to assess the work & rest hours of seafarers to comply with ILO regulations.
02
Dedicated 'Planning' section to help with crew work assignment.
03
Instant record of hours on duty vs. on rest.
04
Level based access for crew members.
05
Separate panels for seafarers and management/owners.
06
One-click report generation in the required format.
07
Face recognition and biometric enabled login.
08
Intuitive and efficient user interface.
09
Easy to install and deploy.
010
24 x 7 customer support.
Tracking the results of these checklists, whether positive or negative, and ensuring corrective measures, is a major area of concern for time-pressed top management. Senior executives are not expected to read through the results of each checklist, though they do need to be aware of imminent problems identified during these checks.
An efficient system of consolidating checklists and highlighting actionable areas along with their cost implications can prove to be of great help.
Crew Level
Access to input, view and edit personal data & reports.
Department Level
Access is restricted to the Chief Officer to view for their team.
Captain's Level
Consolidated data for the vessel. Access to communication log from the company.
Ability to export overall ship data to the company.
Ability to edit team's data for up to 30 days.
Company Level
Complete view of the entire fleet and generate critical reports.
The software has 4 levels of access
An innovative system, easy to install, use and support
Demonstrable compliance to any port state control.
Minimizes data entry time and resources.
Efficient use of vessel resources
Ensures authenticity and correctness of data
Biometric-based data entry
Real-time cross fleet data analysis at the company's onshore office
In compliance with the Maritime Labour Convention 2006, ILO Convention (No. 180), STCW -2010 (Standard of Training, Certification, and Watchkeeping)
Maintain and generate crew duty-log reports, individual crew records and generate IMO crew list.
Facility to maintain a proper ship schedule and settings
Ability to calculate, export overtime records and integrate them with the employee's payroll.
Highly simplified data entry.
Additional, custom activities highlighted under the 'Time Entry' panel.
Checks vessel's compliance status with basic and intricate rules where manual calculation is time intensive and cumbersome.
Allows crew work/rest hour records to be maintained electronically and helps to demonstrate compliance with rest hour regulations
Permission and controls can be enabled to secure data in timesheets.
Maintenance of audit details